Genetically tested guitar prodigy and musician's musician
by Stephen Stern, Executive Editor, Music Insider Magazine – July 11, 2012

It's hard to be a Julian as an offspring to Lennon or Coryell.  Whether the shoe to fill belongs to one of the greatest singer songwriters in John, or the greatest jazz-fusion guitarist in Larry.
Growing up in Connecticut, upstate New York and California, Coryell was aware his father was a professional musician from the household of guitars left in his wake by his touring father.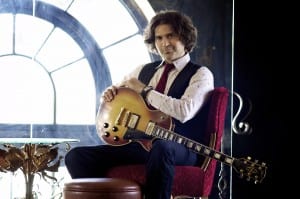 Photo by Lisa Skarell-Schulman
"My father was not around very much so I spent a lot of time fiddling around with different instruments and listening to music," said Coryell. "I started playing guitar when I was eight years old, but I never stated my claim – the shoes were to big to fill, and I was afraid … of all of those expectations."
Obsessed with music, Coryell started his first garage band by age 10, playing his songs, singing and more guitar work. He reflected, "I can't remember a day in my life I was not passionately pursuing a career as a professional musician. I was non-active in sports, a bit of a misfit, and a daydreamer – all I wanted to do was play music."
"However," Coryell added, "I wanted a peaceful search for my instrument – Yet, I kept picking up the guitar. It was a desire that I tried to avoid like the plague, but there was this innate, burning desire to play it. When I started looking across the room at the guitar and it pulled me in like a magnet, I knew it was in my DNA and my destiny."
Larry Coryell recognized his son's guitar genetics in the early Connecticut days.  "He was still a little shit when he requested I teach him the chord changes to Joy Spring, a very difficult and complex piece by Clifford Brown. I was shocked … rather than ask for another toy truck."
Another omen of his musical pursuit is when Larry Coryell parked his car at LaGuardia Airport, en route to a performance in Chicago. "Julian came out from behind the driver's seat. He had strategically stowed himself until we reached the airport. He wanted to go to Chicago with me.  It was before 911, so I bought him a ticket and off we went."
By age 15, Coryell said he accepted his fate and became serious about learning the guitar.  "It was during the end of the '80s of pop music and not necessarily good music, but the guitar solos were very good virtuosically; especially, heavy rock and metal guitar players.  I absorbed all I could."
Within months Coryell went from rhythm and rifts to string surgeon: fingers finding notes like voice to braille.  During their next rendezvous, the prodigal son's play inspired father so much that he submitted a recording featuring Julian playing jazz to the highly-esteemed professors from The Berklee School of Music. "He was pleased I had followed his advice to focus on guitar by setting aside my multi-instrumentalist tendencies," said Coryell."
The 16 year-olds demo dazzled Berklee professors, and he was instantly offered a full scholarship in Bean Town. "My father and other said I would be foolish to turn down a free ride to one of the best music institutions on the planet. Off I went, but not with a myopic focus on the guitar " he said.
Berklee Professor Jack Pezanelli said Julian Coryell "was very savvy and hip to music in some ways that were very unusual for someone his age. When you have Miles Davis, John McLaughlin and Larry Coryell jamming in your living room as a kid, you can't help but gain a conception about things. He spoke like someone who has been around a lot, and could back it up with specifics."
Pezanelli added, "It's internalizing things by osmosis, which can become part of you if you hear them all the time…and you tweak these things with more studies."
Coryell explained, "I have always led a duel life in music. I was always encouraged and expected to be a thoroughbred guitar player, but I also wanted to polish my singer songwriter skill set. In addition to guitar classes, I took music writing and production classes."
Invigorated, Coryell invested student loans to outfit a recording studio in South Boston. He added, "I was flat broke for two years, but had all this equipment and a studio and started singing, song writing and production work."
While the ink was drying on his Berklee diploma, the Osmonds offered Coryell his first professional tour, which lasted about one year.
"I flipped a coin when I returned from the tour," Coryell explained. "I had to decide where to start the next stage of my career, between New York or California.  New York came up heads."
"I spent the next five or six years honing my craft, playing jazz, rock, blues, pop and folk gigs – whatever I could get," he said. "I played every club in the village, all-over Manhattan, on everyone's demo, fearlessly getting seasoned.  I was also playing with my rock band trying to get a record deal. I was still flat broke but happy to be ensconced in the real-deal music scene."
It seems all came to fruition when Coryell received a record deal as a jazz artist, another as a rock artist, and then signed as a writer for a major publishing company.
Some coin in his pocket and bounce in his step after years of fighting tooth and nail, Coryell headed to the Golden State to record a rock record.  "I met a girl here, but neither the girl or the record went very well," he recalled. "Then the rock record company dropped me, the jazz record company went belly-up and the publishing company dropped me. I quickly became just another out of work musician and it was time to reassess things."
Coryell explained, "I thought briefly about getting out of the music world because I was so heartbroken, but I have the disease of music running through my veins … and I had to accept and respect who I am. I also realized I had a strong skill set as a guitarist, writer and producer."
He added, "When my mother died, for whatever reason, I suddenly realized that life is so much shorter than we know or think, and we can't put off being who we think we are … we need to be who we are now. It was a huge revelation just how mortal we are. It was the first time I started to own this person."
Whether the call stemmed from the laws of attraction, positive thinking or growing acclaim, Aimee Mann called with a three-year world tour. That was followed by a stint with Jewel, Leonard Cohen, American Idol, Carole King, and Japan's favorite rock son, Kazuya Yoshii.  Currently he is touring Europe with Alanis Morissette.
When he is off the road, Coryell is song writing, producing songs and performing as a core member of Rockers Collective, an all-star rock band comprised of the greatest musicians from the world's most famous bands.
He continues to fulfill his triumvirate skill set by writing and/or producing for such famous artists as Leonard Cohen, along with his own work, Gaijin, a mini Japanese rock opera. Coryell co-owns West Triad Recording Studio in Venice, California with drum-maven Mark Schulman (P!NK, Foreigner, Billy Idol, Stevie Nicks, Cher, Simple Minds, Rockers Collective, et. al.) and legendary sound engineer Erich Gobel (John Mayer, Ray Charles, Travis Warren, et. al.)
Schulman said, "Julian is one of the great musicians on the planet.  He never ceases to amaze me.  I don't know another player who has mastered as many musical styles as Julian.  He is also such a great producer and writer of pop, modern rock, and various styles of jazz and classical."
Schulman explained, "I had been on the road (P!NK tour) and he asked me to come and play on his new project.  Imagine my surprise when he put the tracks up in the studio and he had written a beautifully crafted group of vocal songs that were all in Japanese — songs that he had written and sung completely himself!"
The prodigal son no longer cowers under his father's shadow; rather, the dynamic duo-bask under the same stage lights a few times a year – the jazz-fusion maverick and the multi-faceted musician's musician.
"Julian will surpass me as a guitar player if he hasn't already done so. If he played more jazz guitar, he would have surpassed me earlier." Larry Coryell added, "I am very proud of him. He is very gifted and a great human being…despite all the obstacles placed comically before him in the past. He is also a fantastic father – I am really impressed!"
A generational trio may form in 15 years or more – that is, if Julian's baby Jake finds he also can't deny his DNA string.